Our Executive Recruiters Offer Simplified Solutions For Filling Roles
Headhunting just got easier with Arete Executive - your go-to executive recruiters. We help businesses find and recruit accomplished executives. $9,500 shortlist solution available.
Filling mission critical executive roles takes skill and talent. But that doesn't mean it has to be hard. Or that it has to take forever. Or even that it has to be expensive. Our executive recruiters understand this and will work with you to ensure you find the right fit for the role.
Arete Executive is the only executive recruitment agency to offer a guaranteed 'short list solution' within 20 working days of engagement. That's how confident we are in our people and our processes.
Our team of experienced executive recruiters has a track record of success in filling roles across a range of industries. We understand the importance of finding the right person for the job, someone who not only has the necessary skills and experience, but also fits with the company culture and values.
At Arete Executive, we take a thorough and personalised approach to executive recruitment. We work closely with our clients to understand their unique needs and requirements. Our goal is to make recruitment as easy and stress-free as possible for our clients, and our expert executive recruiters know just how to get it done.
As executive recruiters, we understand the unique challenges that come with finding and recruiting top-tier executives. We know that time is of the essence and that every day that a critical role remains unfilled can have serious implications for a company's bottom line and overall success.
Arete Executive is available to service clients throughout Australia and Worldwide.
Please take a few moments to watch this brief video from Richard Triggs, Managing Director of Arete Executive
Executive Headhunting
I'm looking for executive or board level talent for our business. I want the best available person for the role but I don't want the search to cost a fortune or to take forever.
Executive Job Search Coaching
I'm an accomplished executive or board member preparing to search for my next role. I am 'headhunter ready' or willing to do what it takes to be headhunter ready.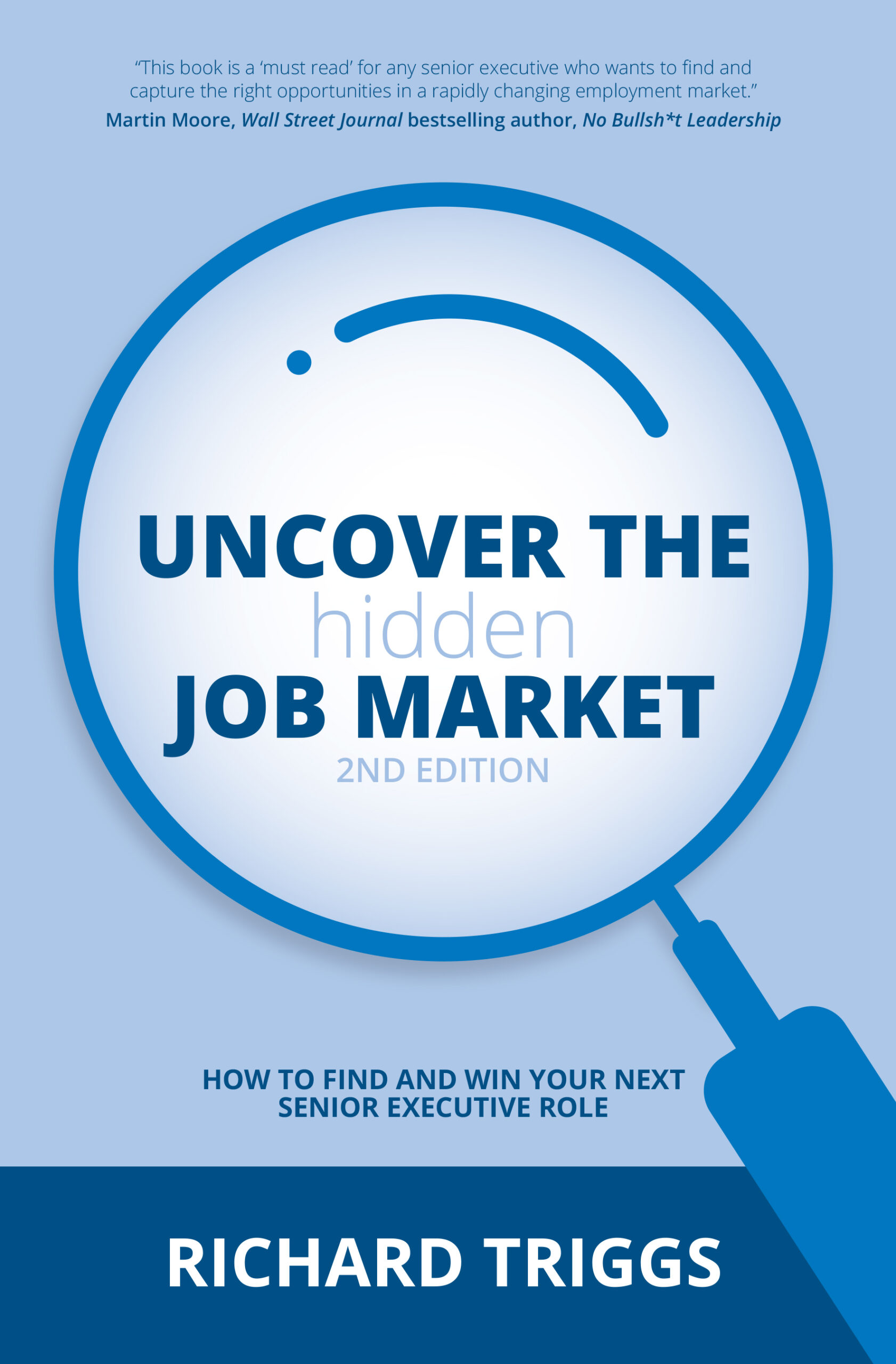 Richard's New Book
If you are a Senior Executive wanting to fast track your career to C-Suite and/or Board positions then this book is a must read.
Uncover The Hidden Job Market: How to Find and Win Your Next Senior Executive Role
will equip you with the cutting-edge insights you need to navigate and stand out in the new and fiercely competitive executive career marketplace. Richard Triggs, Founder and CEO of Arete Executive and Australia's leading Executive Career Advisor, will guide you through case studies, strategies and practical applications that will allow you to:
Take a quantum leap in your Board or Executive career
Secure your job of choice within Australia's top companies
Uncover hidden opportunities that you never knew existed
Position yourself as a highly sought after executive leader
Learn how to fully leverage LinkedIn to build a strong personal brand
Follow Richard's pragmatic, nothing-left-out strategic advice and you will open up a whole new world of possibilities for your career faster than you ever thought possible. Follow Richard's pragmatic, nothing-left-out strategic advice and you will open up a whole new world of possibilities for your career faster than you ever thought possible.